As of this date I do not know which of the brothers was the oldest, only that Josiah was the 2nd son of Samuel Guiler Kennedy.
Prior to March 2008 there was no known identification of James Kennedy, although it was believed that he had been killed in the Great War. This was confirmed by the findings of Alan Curragh who found James Kennedy listed on the Memorial Plaque at the Royal Belfast Academical Institution, along with William. He is also listed in the Honour Roll with both Josiah and William.
Earlier attempts to identify James Kennedy from the records at the Commonwealth War Graves Commission ("James Kennedy") failed. Although there was a James Kennedy with Service Number 14/16658 (one past William's) this proved to be a James Kennedy with different parents. Either the records or wrong or this was just a coincidence.
In May 2008, Alan Curragh sent on another set of documents that he discovered at the UK National Archives in Kew. Alan photographed all of these and they are now posted to this web site at this location: "Records of James Kennedy".
There is quite a bit of additional information in these records, including other members of the family. The reason that James was not easily identified is that there was confusion in the records between "James" and "Josiah", both using the initial "J". James was initially reported as KIA and then MIA, all a result of this confusion. It was Josiah that was MIA, James was already KIA.
In July 2008 a record of the death of 2nd Lt. James Kennedy on March 21, 1918 was found in a current text "The 1st Royal Irish Rifles in the Great War", written by James W. Taylor. James is mentioned in the text in two locations, first at the battle at St. Quentin and second in the summary of those killed (see extract). For those interested in the action at that time in the Spring of 1918, I have also extracted a larger part, which also includes the information noted above (full section).
Based on the information that was submitted to the Commonwealth War Graves Commission (CWGC), the records of each of James Kennedy and his brother William Kennedy have been modified to show the relationship of the brothers and their common father, Rev. S. G. Kennedy.
During the work on the "Unknown Project" I discovered that 2nd Lieutenant James Kennedy had been an "Unknown" in the cemetery records. There were actually two (2) Unknown Second Lieutenants of the Royal Irish Rifles attached to the 1st Battalion and I have yet to determine how they decided that the one in the COG-BR was James Kennedy and not John Crawford Thompson (CWGC Link).
CWGC Link to Second Lieutenant James Kennedy, 21 March 1918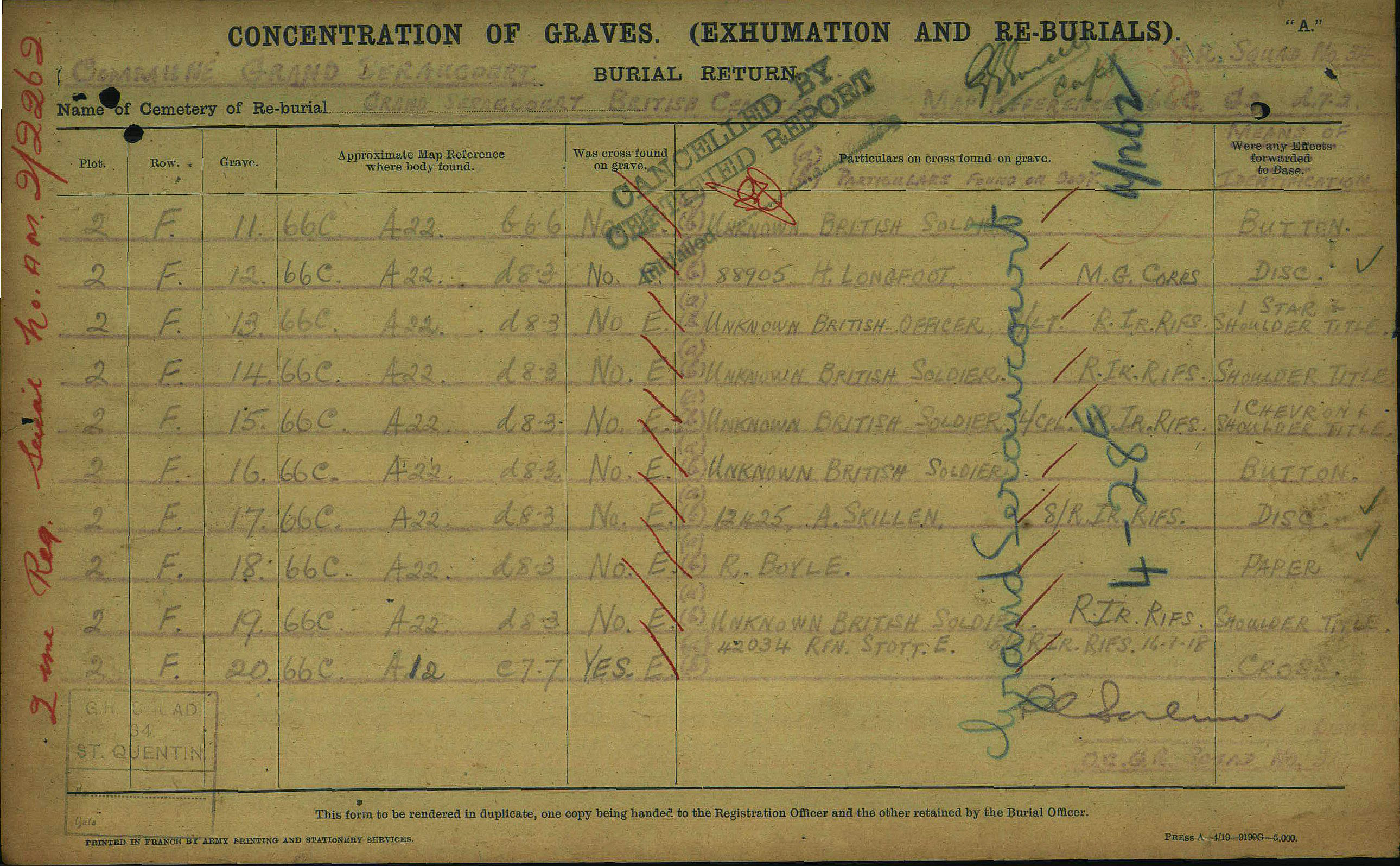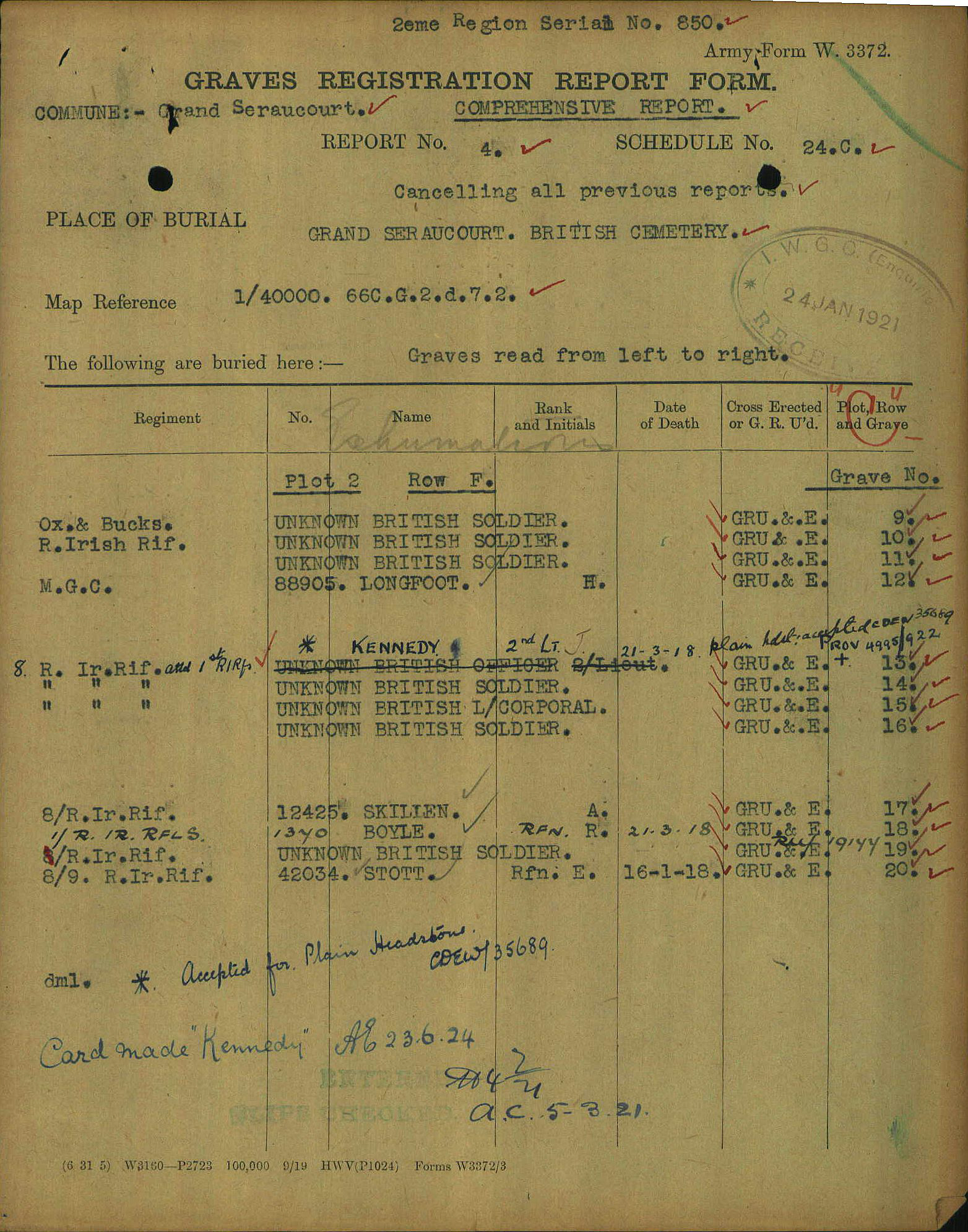 The war diary names Second Lieutenant James Kennedy as one of the officers of the 1st Battalion Royal Irish Rifles killed that day, along with Second Lieutenant Thompson. As noted, I have yet to discover how they knew it was Kennedy (attached from 8th Battalion) and not Thompson (attached from 5th Battalion).
Second Lieutenant Kennedy's remains were recovered at trench map coordinates 66c.A.22.d.8.3, southeast of Castres and northeast of Grand-Seraucourt, where he was buried (concentrated from a battlefield grave).