The total farm property is about 186 acres and it extends from No. 2 Sideroad on the north to the woodlot bordering the creek and No. 1 Sideroad on the south. The east and west property boundaries are set by the neighbouring properties.
This is the property as it appeared on Google Earth prior to the arrival of LTS in Novermber 2009: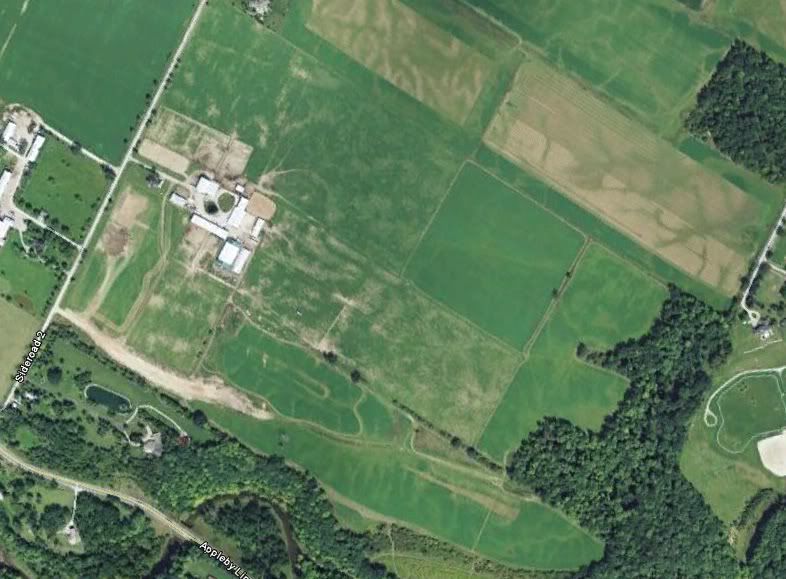 The property consists of two main sections:
The LTS Equestrian Facility
The Radisic Farm Property
The LTS component of the property starts at the
Main Green Gate
on at the end of the entry drive as you go past Tom Radisic's house. The grassed areas north of this gate are not LTS leased property and should not be used by LTS boarders or students without permission. The LTS property on the
west side
is set by the
Field Green Gates
at the south-east corner of the Quonset Hut (the large metal building where the hay is stored). The Radisic family allows LTS to use the trails on their part of the farm property that go to the south woodlot (past the large manure piles), on the condition that the horses
stay on the trail
and do not cross over any of the hay fields. As such, you can not take your horses out into the hay fields for a "snack". The east and south parts of the property are set by the extent of the large pasture fields, all of which are gated to control entry and exit.
More detailed images of the property that show the new fence lines installed in the summer of 2012 will be posted in the near future.